Brian Belfitt's a busy man – busy building a thriving community of bloggers known as Blog Engage. It took me nearly three and a half months to convince him to take a short break and chat with me about his goals, his vision, and the site he has so passionately built from the ground up.
"Brian, what were you thinking when you started Blog Engage, four years ago? What were your goals, then – personally and professionally?"
Brian didn't hesitate. "When I first started Blog Engage," he said, "I knew I wanted to start a community that encouraged members to share their own content. One of the biggest issues I had seen online was the inability to link back to your own stuff without looking like a spammer. When I created Blog Engage I knew it had to be the opposite, I knew we had to not only allow self promotion but encourage it.
"I think to this day we have accomplished this and I'm very happy with the amount of sharing Blog Engage members are doing. The self promoting concept went very well and has worked since we started."
It seems like a long time – and then again, only yesterday. "You're a blogging multimillionaire by now, aren't you?" I asked.
"I'll be very honest I do well with Blog Engage," said Brian. "I work full time by myself so I don't have much overhead and the income is great. I'm no millionaire but I am proof if you have an idea and work hard at it, you can succeed. I'm thankful I don't rely on advertisements; I have real paying customers—I syndicate their content and do social media marketing for them. It's a great job and all my customers are really supportive of what I do."
"Brian, I know that it takes a lot of time, dedication, and energy to do what you do – it's not exactly a 9 to 5 job when you're an entrepreneur with a global clientele. Well what keeps you going, then?"
"I enjoy helping others online with social media marketing, I enjoy meeting all these amazing and great people, I love the new relationships I'm building, in fact it all adds up and I tend to love everything I do online.
"I also enjoy being my own boss. I'm 31 years old and if I play my cards right and build Blog Engage well I could be retired and enjoying life as planned before I turn 40. I don't have intentions on selling Blog Engage but let's face the facts, if it was the right offer, I would be back to blogging only full time."
"How does Blog Engage help bloggers to meet their goals?"
"Blog engage can be a useful tool in so many ways," Brian answered. His enthusiasm was evident as he warmed to his subject. "If you're looking for ideas, we have tons of categories that will generate some brain movement. If you're looking for niche blogs to comment on we have that as well. We have tons of huge brand name bloggers you can learn from and be motivated by.
"Blog Engage also offers a great place to build backlinks. I moderate all our members content and ensure it's top quality when submitted to our community. Google knows this and ranks our link value very high. I'm very strict when it comes to the type of content users submit and design quality of the site itself."
"Yes, that's one of the things I like about it – no one wants their content lost in a sea of spam and unsavory scams. It's great that you're always on top of things, there, Brian. So… What's your biggest professional goal, right now? Do you have any big, personal 'life goal'?"
As passionate as Brian is about Blog Engage, there's clearly a higher priority for him. "I would like to retire young enough to enjoy life. This has always been my goal. I want children and the family thing as well. I'm married, been with my wife now for over 11 years the last two have been in marriage. We are working hard at creating our little family, and hopefully we will be blessed with healthy children. I really look forward to having my own children… I'm 31 already here!" Brian laughed, but it was a laugh meant to be shared with kids of his own. I've only recently realized how much Brian Belfitt enjoys teaching and encouraging kids. I can see him being a dad.
"What do you do to stay on track and accomplish your goals? Do you have a plan? Do you formulate 'SMART' goals?"
"Ironic—I just did a guest article on Brian Hawkins blog about creating a daily plan and organizing your time slots to accomplish tasks more efficiently. This by far is the best method of getting things done and reaching goals. Every day you must have a plan to succeed, this is with anything you do it life not just blogging."
"What are your biggest obstacles, Brian? How do you deal with obstacles and set-backs?"
"Right now the biggest challenge I have is getting people motivated. It's so hard to keep a live and entertaining community for us. This has always been difficult for me. It's hard to get the members voting and visiting each others' articles so as I move forward day by day the biggest challenge I face is community motivation.
"With that said we have a lot of amazing members that do in fact visit and engage daily. These are the members that make Blog Engage as great as it is today. These Blog Engage members know who they are and I send a big thank you to them now for helping make Blog Engage as awesome as it is today."
That's true. I remember going from "lone wolf" blogger to meeting all these fantastic, supportive, engaging bloggers – and a lot of them, I met through Blog Engage. Of course, I had to ask Brian about the contest he sponsored – the contest in which TheNextGoal.com was born – "As one of the sponsors of Weblogbetter's Surviving the Blog Contest, what do you think of how the contest turned out? Would you sponsor a contest like it, again, in the future?"
"I must say I didn't sponsor the contest for the type it was or for the advertising. I supported this idea because it was a Blog Engage member behind it, and it was the most unique ideas I've ever seen online for a blogging contest. I think it turned out great; Holly, you did an amazing job winning that contest. If there was another version of this contest, yes—I would sponsor it again if I had the funds."
"Thank you, Brian!" And with that, Brian had to get back to work. Blog Engage has recently undergone a major transformation: the design is more attractive; the site runs faster; the site itself, the blog, and the forums all work together as a whole – it's really remarkable what he's accomplished. I hope everyone reading this interview will at least join the site and check it out – there's not been a better time to do so!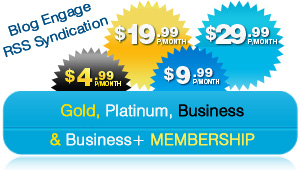 Holly Jahangiri lives in Texas and claims to channel the spirits of Edgar Allan Poe, O. Henry and Erma Bombeck. She has known since fifth grade that she wanted to be a professional writer. Holly is a technical communicator whose imagination is allowed free rein in her short stories, children's books, and poetry. You can visit her personal blog, "It's All a Matter of Perspective," at http://jahangiri.us/new.